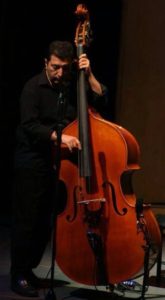 From 2017 to 2020, Fawaz Baker is a partner artist of Quartz in Brest, and joins the Hirustica label for an album published at the end of 2019.
The passing on of music from one musician to another and from one soul to another continues, echoing ancient melodies that used to be heard throughout the city, in churches and cafes; in the mosques and courtyards of stone-carved buildings. These tunes, in Arabic, Syriac, Armenian, Turkish and Kurdish, have been passed down from one generation to the next, their beauty serving as the sole weapon against falling into oblivio.
The program we are presenting comes from the repertoire of the city of Aleppo, Syria. It's a very old and very rich repertoire, worked over time and religious traditions, as secular, poetic, popular, Muslim, Syriac, and Aramaic traditions. Some elements are over 2000 years old. These are mostly melodies, which are much more resistant than languages and religions. They are transmitted and persist through political, cultural and religious changes.
Much of this repertoire has been passed down from a Sufi brotherhood in Aleppo. 300 people meet every Friday afternoon to sing together for several hours. These gatherings, called "dhikr" have been going on for 500 years and continue to this day, despite the war.