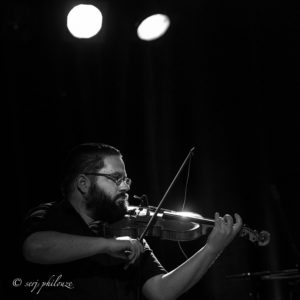 Born in 1983, Gabriel began playing the violin at the same time he entered school. Ten years at the Caen conservatory were enough to give him a taste for musical discoveries. His artistic research has taken him to Breton music, but also to pubs in Ireland and to the eastern shores of the Mediterranean: Turkey, Algeria, Israel, and more recently to the Balkans. The mixture of these influences allows him to create a rich, unique and always surprising style of play which emanates a sensitive emotion.
His projects have led him to play notably at : Vieilles Charrues (2009, 2010, 2013), Festival du bout du monde, Celtic Connections (Glasgow), Jazz sous les Pommiers, Festival de Cornouaille, Fusion Festival (Germany), Festival des suds (Arles), Art of the Cities Art of the Fields (Malguénac), Yaouank (Rennes), Jazz à Vannes, Lorient Interceltic Festival, Fisel Festival (Rostrenen), …
In 2017, he joined Cie Hirundo Rustica with his new show Moltaka.