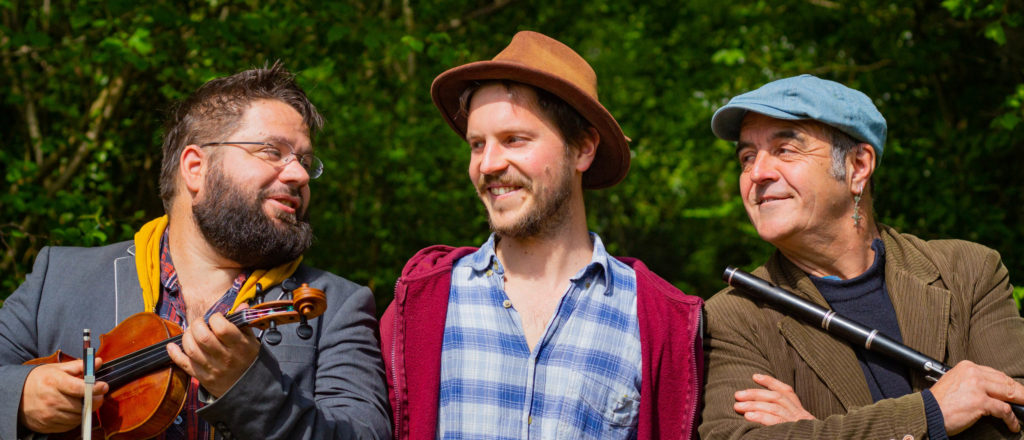 Artists
Korentin Le Davay : vocals
Gabriel Faure : fiddle & mandole
Jean-Luc Thomas : wooden flutes
Show
Made up with Korentin Le Davay on vocals, Gab Faure at  the fiddle, mandole and electronics, and Jean-Luc Thomas at the flute and electronics, the group Baleer Bro was created at the occasion of the 200th anniversary of the birth of François-Marie Luzel in Plouaret. At the initiative of the town of Plouaret, the Trio offers a contemporary take on Luzel's collection in the Tregor.
A music video shot in the Tregor was produced by the Trio, alongside actress Camille Le Jeune.
The creation was performed on the 13th of July 2022 as part of the "Apéros Klam" in Saint Anne d'Auray.
Baleer Bro means "country walker", in reference to a text from Anatole Le Bras :
"Sometimes the door would rattle at the "opening request" of a passer-by. Keramborgne, like all Breton homes, was a hospitable house. The baleer bro, the "country walker", peddler or beggar, was let in. People made room for him. He made the most of the open fire and candle light. He paid for it by displaying bright coloured pictures before the eyes of the audience, or by showcasing his great repertoire, full of songs and all kinds of tales.
"
Anatole Le Bras – Introduction to the Songs and Folk Songs from Western Brittany by F.M Luzel – Sonioù 1
Upcoming dates
16 September 2023 : Concert | Church, Plourivo (22)

Previous dates
20 January 2023 : Concert for the 50th anniversary of the Dastum association | Ti Ar Vro, Cavan (22) – 8:30 PM
23-24-25 November 2022 : Residency | Musiques Têtues, Rostrenen (22)
13 July 2022 : Concert | Sainte-Anne-d'Auray (56)
12 November 2021 : Concert | Dañs Treger, An Dour Meur Cultural Center, Plestin-les-Grèves (22)
27 August 2021 : Concert | Fisel Festival, Rostrenen (22)
17 August 2021 : Concert | Park of the Multipurpose Hall, Quistinic (56)

06 August 2021 : Concert |Le Chalut, Inguiniel (56)

02 August 2021 : Concert | Amzer Nevez Cultural Center, Ploemeur (56)
Booking : Big Bravo Spectacles
contact@bigbravospectacles.bzh – 06.75.25.08.91
Watch
Baleer Bro – Teaser Ar Sorserez
Baleer Bro – Ar Sorserez – complete video