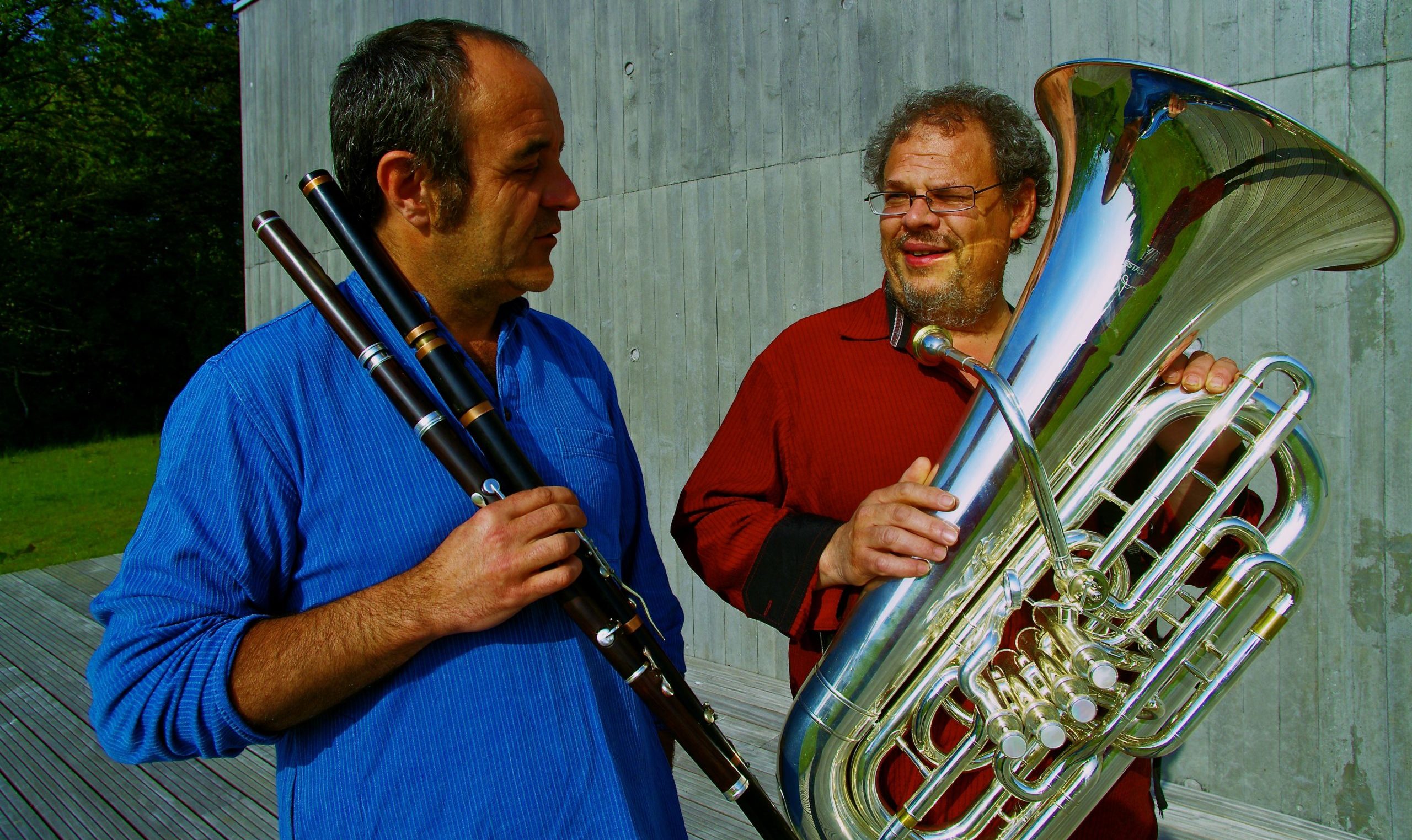 Artists
Jean-Luc Thomas – flutes
Michel Godard – tuba, serpent, bass guitar
Show
The unlikely encounter of two instruments, one high (a flute), the other low (a tuba) was conceived by Pierre Scheidt director of the festival  « Fifres de Garonne » in Saint Pierre d'Aurillac. It's extraordinary to listen to this open and generous dialogue of composition and tradition, convention and improvisation, between Jean-Luc Thomas and Michel Godard. Here we are at the crossroad of traditional music, jazz and contemporary…
.
Biographies
Jean-Luc Thomas (flutes)
Jean-Luc Thomas's interest for popular and difficult music, composing and improvising, meeting with highly skilled people, will lead him to get involved in various adventures. We should not forget the basis of his artistic journey: Breton fetoù-noz ans wedding music, Irish sessions and ceilis music. Jean-Luc will be brought to meet musicians from a different musical background (jazz, contempory music…) other cultures (Brazil, Mali, Niger…) storytellers, actors an other language virtuosi.
.
Michel Godard (tuba, serpent, bass guitar)
Born near Belfort in 1960, Michel Godard soon established himself as an extraordinarily versatile exponent of the tuba, pursuing a career in jazz and classical music. Today he is one of the most virtuoso tuba and serpent player in Jazz as well as in improvised music. He's tuba performance is fantastic in every sense: his technical skill is astounding, his tone clear and warm, his ability to produce overtones and his musicality leaves the listener surprised at how light a seemingly cumbersome and heavyweight tuba can sound. In 79 he picked up also the ancestor of the tuba, the serpent, an instrument with a name derivated after his form- looking like a coiled snake. The serpent's ivory mouthpiece gives it a characteristic warm and intense tone. With it, Michel Godard as taken yet another step in broadening the field of expression in ancient music as well as in Jazz.
.
Listen
Watch
Jean-Luc Thomas / Michel Godard – Concert Extracts (La belle femme qui pleure Album)
Technical information
Set duration: 1h20
Audience capacity: unlimited
Configurations: possibility of inviting other improvisers musicians / possibility of organizing workshops or masterclasses about improvisation.