Associated Artists
Created by Gaby Kerdoncuff & Jean-Luc Thomas – the Hirundo Rustica Compagny & the Hirustica Label are a professional tool for artistic production and broadcasting of performances and a label geared to musicians who, while firmly rooted in their own traditions, are keen to travel and to participate in international exchanges.
Jean-Luc Thomas – associated artist since 2006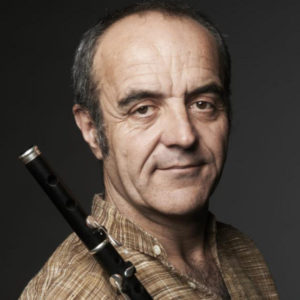 Jean-Luc Thomas is a self taught flute-player. He was among the first generation of musicians to integrate this instrument into festoù-noz groups (Traditional Breton dance music). Through practice in Britanny and numerous trips in Ireland, he has acquired a strong technical knowledge and has developed his own style. He likes to bring people together and engaged them in an artistic and musical experience. Nowdays, he moves through rich musical environment from traditional to classical via jazz with Breton, Malian, Polish, Brazilian and Arabic musicians and dancers.
His albums are available on Bandcamp.
Gaby Kerdoncuff – associated artist from 2006 to 2021
Player of the bombarde (breton oboe) from a very young age, Gaby Kerdoncuff studied breton music with the players and singers of Kan ha diskan in the center of Brittany.
He then went on to work regularly with jazz musicians and taught himself the trumpet before becoming a professional musician in 1990. Discrovering oriental music very early on, he searched a link between oriental and breton music, which he discovered through his regular collaboration with gipsy musicians from the balkans and the middle east. After 30 years of collaborations and many CD's to his name, he keeps going, with bombarde and trumpet, his resonant adventure from his celtic roots towards the many musical traditions in and around the mediterranean sea.
His albums are available on Bandcamp.