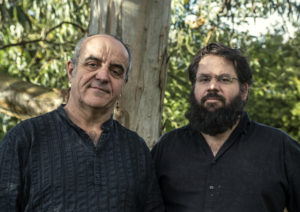 Violin & Wooden Flutes Duet
Artists
Jean-Luc Thomas – wooden flutes
Gab Faure – violin
>> "Gwiad" : Album release the 26th of May 2023
Show
What makes me love this duet so much? Jean-Luc Thomas and Gabriel Faure's talent. The apparently simple beauty of their music. The woods of the flutes and the violin from which it emanates. The breathing and the silence that we can hear. The ability of these two to tell stories. The images of parties and dances but also of sadness and melancholy that they shape. The memory of the emotional sighs of an audience, and their tears too, in the garden of a Bordeaux échoppe and on the banks of the Garonne River at Saint-Pierre-d'Aurillac Festival de Fifres. You have to listen to Jean-Luc and Gabriel, but you also have to see them perform, watch them look at each other, wait for each other, and recompose together music that is both ancient and resolutely of the present time.
Didier Houde – Alternantes FM and Radio Campus Bordeaux
Jean-Luc Thomas and Gab Faure know how to train crowds to the well-dancing. But they go far beyond : they infuse into traditional tunes the accents and rhythms harvested along their travels around the world. Ireland, Brasil, Balkans, Niger, India… The five continents and their earthling brothers' cultures inspire them.
Their duet adventure freely readapts the dance tunes on every occasion with creativity, mutual listening, reactivity, variations and improvisations. The original compositions born from their musical dialogues will certainly become, someday, traditionals.
As in this changing world, one "takes action with their whereabouts, thinks with the world" (Edouard Glissant).
With love and humour, such is their signature.
Laurence Haxaire
Upcoming dates
18 May 2023 : Concert | Bracquetuit (76)
09 June 2023 : Concert | Le Piège à Çons, Saint-Dolay (56)
14 June 2023 : Album Release Concert | 8 P.M., Antipode Barge, Paris (75) | + Duo Fawaz Baker / Gülay Hacer Toruk
15 June 2023 : Concert |  Irish Association, Saint-Ouen-sur-Scène (93)
17 June 2023 : Concert | La Boîte à Bois, Caen (14)
02 July 2023 : Concert | Café Théodore, Trédrez-Locquémeau (22)
07 July 2023 : Concert | Media Centre, Bégard (22)
23 September 2023 : L'Estran, Guidel (56)
Previous dates
16-17 February 2023 : Album Recording, with Marcelo Costa & David "Hopi" Hopkins | Multimedia Center, Rostrenen (22)
26-27 January 2023 : Festival Celtic Connections | Concert · Showcase Scotland (Glasgow, Scotland – with BWS & Glaz Music)
25 January 2023 : BBC Radio Scotland · "Travelling Folk" (folk music radio show) | Glasgow, Scotland – 6:30 PM/8:30 PM
11 August 2022 : Concert | Church, Le Quillio (22)
30 July 2022 : Concert | Landeda (29)
31 March – 10 April 2022 : Poland Tour | Zatón Dolna, Szczecin, Poznań, Varsovie & Olsztyn
11 September 2021 : Concert | Cultural Center, Pluzunet (22)
20 August 2021 : Concert (+ David « Hopi » Hopkins) | Festival Hangar #5, Coëtmeur, Mohon (56)
10 August 2021 : Concert | Plestin-les-Grèves (22)
21 July 2021 : Concert | Tréguier (22)
20 July 2021 : Concert | Plestin-les-Grèves (22)
17 July 2021 : Concert | Beach Camp Thomas Wok, Santec (29)
27 July 2021 : Concert | Saint-Pierre-d'Aurillac (33)
11 August 2020 : Concert | Plérin (22)
08 August 2020 : Concert | Le Vieux-Marché (22)
18 January 2020 : Fest-noz | Plougrescant (22)
Watch
Thomas/Faure – Vilius

Thomas/Faure – Air pour faire revenir la Mariée

Thomas/Faure – Hanter Dro
Bios
Gab Faure
Born in 1983, Gab Faure began his career as a violinist at Caen's music conservatory. After ten years of playing classical music, he decided to leave this sphere, his sights actively set on world music. His path is one of many encounters, discoveries, travels. He participated to many musical projects from diverse horizons : Breton music, Bluegrass, Balkan music, Irish music, Oriental music, Gnaoua, Gypsy jazz, song, representing more than 700 concerts and 18 records in 15 years.
In the same time, he produces « J'ai tendu les cordes » ('I stringed the strings'), a series of approximately 50 videos of musical gatherings in Ireland, Scotland, Quebec, Morocco and Brittany. His improvisations, which all his projects are cross-practiced with, are nurtured by an advanced music vocabulary and delicate emotion. Since 2021, he has been exploring the radiophonic universe by producing sound documentaries, mainly with the 'Kreiz Breizh Radio'. Today we can find him as a duo with the flutist Jean-Luc Thomas, in the Baleer Bro trio, in the fest-noz group Titom and in the group Toutã.
Jean-Luc Thomas
« For this exceptional flutist, each note is connected to an emotion. Jean-Luc Thomas only performs in the Celtic tradition to better resonate his African, Arabic and South American sensitivities. »
Les Inrocks (May 2014)  
It can be learnt, taught and theorised, but music will never completely break away from busking on the street. We have to open ourselves more to the world and its inhabitants. No one knows this better than Jean-Luc Thomas, one of today's greatest French flutists in traditional and improvised music.
Thanks to his globetrotting, the breadth of his music knowledge never stops growing. Tregor native, Jean-Luc Thomas partners with Breton, Malian, Polish, Brazilian, Indian and Arabic musicians and singers, whether they are traditional, classic or jazz musicians (such as Carlos Malta, Michel Godard, Yacouba Moumouni, Vitor Lopes, Ravichandra Kulur). In addition, he was part of the Zingaro Equestrian Theatre (« Ex-Anima ») for three years .
As a tireless observer of the world and its traditions, he has never conceded anything to business. In all his attempts to unite musics, Jean-Luc Thomas has never settled for tricks and shortcuts. For him, human dignity cannot be bought: "We get to be part of such great things," he still wonders. "My flute gave me keys to the world". And it's a whole world, that in return, his flute invites us to discover.
Adaptation from the bio written by Louis-Julien Nicolaou (Les Inrocks – Télérama)