Fiddle & Wooden Flutes Duet
Artists
Jean-Luc Thomas – wooden flutes
Gab Faure – fiddle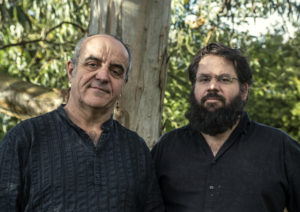 Show
Gavotte, plinn, andro, does it ring a bell ? These two have been playing them for a few decades. Jean-Luc Thomas and Gab Faure know how to train crowds to the well-dancing. But they go far beyond : they infuse into traditional tunes the accents and rhythms harvested along their travels around the world. Ireland, Brasil, Balkans, Niger, India… The five continents and their earthling brothers' cultures inspire them.
Roots and complicity
Their duet adventure freely readapts the dance tunes on every occasion with creativity, mutual listening, reactivity, variations and improvisations. The original compositions born from their musical dialogues will certainly become, someday, traditionals. As in this changing world, one "takes action with their whereabouts, thinks with the world" (Edouard Glissant). With love and humour, such is their signature.
The tempo of the loam
Musician & traveler Jean-Luc Thomas has been since many years engaged in a dual relationship between his traditional Breton roots and reaching out towards other artistic expressions (jazz, contemporary music …) and other traditional cultures (Brazil, Niger, India…). Between composition and improvisation, he has created a language that he uses essentially to communicate through past and ongoing artistic experiences, involving himself in the diverse adventures that you will discover here.
Free and sensitive soul, Gab Faure became a violinist and a primary school student at the same time, in the late 80's. Ten years in classical music school in Caen gave him the taste of musical explorations. The next two decades brought him from Bretagne to Irish pubs, to the oriental banks of Mediterranean Sea – Turkey, Algeria, Israël and more recently to the Balkans. A mix of influences for a rich, unique and always surprising style.
Laurence Haxaire
Upcoming dates
25 January 2023 : BBC Radio Scotland · "Travelling Folk" (folk music radio show) | Glasgow, Scotland – 6:30 PM/8:30 PM
26-27 January 2023 : Festival Celtic Connections | Concert · Showcase Scotland (Glasgow, Scotland – with BWS & Glaz Music)
16-17 February 2023 : Album Recording | Multimedia Center, Rostrenen (22)
18 May 2023 : Concert | Bracquetuit (76)
19 May 2023 : Concert | Mesnil d'Argences Equestrian Center (14)
09 June 2023 : Concert | Le Piège à Çons, Saint-Dolay (56)
14 June 2023 : Album Release Concert | L'Antipode Barge, Paris
07 October 2023 : Concert | Île-de-Batz (29)
Previous dates
11 August 2022 : Concert | Church, Le Quillio (22)
30 July 2022 : Concert | Landeda (29)
31 March – 10 April 2022 : Poland Tour | Zatón Dolna, Szczecin, Poznań, Varsovie & Olsztyn
11 September 2021 : Concert | Cultural Center, Pluzunet (22)
20 August 2021 : Concert (+ David « Hopi » Hopkins) | Festival Hangar #5, Coëtmeur, Mohon (56)
10 August 2021 : Concert | Plestin-les-Grèves (22)
21 July 2021 : Concert | Tréguier (22)
20 July 2021 : Concert | Plestin-les-Grèves (22)
17 July 2021 : Concert | Beach Camp Thomas Wok, Santec (29)
27 July 2021 : Concert | Saint-Pierre-d'Aurillac (33)
11 August 2020 : Concert | Plérin (22)
08 August 2020 : Concert | Le Vieux-Marché (22)
18 January 2020 : Fest-noz | Plougrescant (22)
Watch
Thomas/Faure – Vilius

Thomas/Faure – Not a Banjo Tune

Thomas/Faure – Air pour faire revenir la Mariée

Thomas/Faure – Hanter Dro