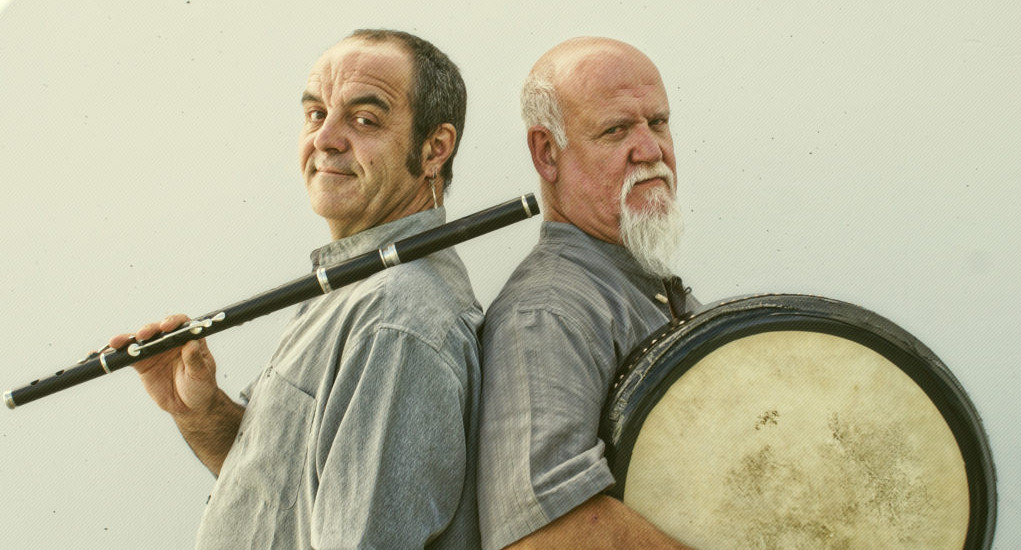 Artists
Jean-Luc Thomas – flutes, electronic treatments
David "Hopi" Hopkins – percussion, flutes
Show
Breton flute player Jean-Luc Thomas and Irish percussionist David "Hopi" Hopkins no longer remember when they met and began to play music together. It was probably in a session somewhere over a pint… Since, they have been on the road, sharing the stage in France, England, Italy, Switzerland and Poland.
The duo take the air/earth duality to an uncanny, almost telepathic osmosis; both musicians have a passion for multiple musics resulting in an eclectic blending of their respective traditions coloured by years of musical experiences and encounters far beyond "Celtic" borders.
The two draw their influences from the traditional musics of their respective native celtic areas – Belfast and Brittany – but are equally inspired by other musical traditions. The duo presents a varied and eclectic repertoire where reel follows ridée and bansuri & udu give way to timber flute & bodhran.
Booking : Big Bravo Spectacles
contact@bigbravospectacles.bzh – 06.75.25.08.91
Listen
Watch
Jean-Luc Thomas / David "Hopi" Hopkins (Quartet Version) – Vilius
Technical information
Set duration: 1h20
Audience capacity: no limitation
Configuration: possibility of organising workshops on Irish music.