Artists
Gab Faure – violin
Abdenbi Elmeknassi – gembri / vocal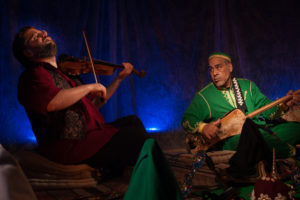 On Tour
Moltaka: The Gathering
Abdenbi represents today's Moroccan Gnaoua tradition, just as Gab is a Breton violinist versed in Western cultures. One is the son of ma'alem, is himself ma'alem, officiating night-time trances like on the stages all over the world; the other is a multi-polar, traveling violinist, who savours jazz just as traditional music from Brittany and Balkan music, passing on his way through Ireland and Bluegrass.
Their gathering point is, inevitably, one that occurs between two people. The one that is passing on and one being passed on to. The host and the guest, and then guest is the host. The gavotte dancer and the trance leader of Meknes. The Guembri player-singer and the violinist.
Through these two musicians, cultures meet, join together and understand one another. Codes get erased. The word is set free. Trance is shared and contagious.
MOLTAKA is the fruit of this meeting. Halfway between the Gnawa trance and a Western concert, the two artists give an intimate performance that puts listeners at the heart of the show. In addition to the music, colour and incense are employed in the show to give the audience a total sensory experience.
Co-production Hirundo Rustica/ Grande Boutique à Langonnet
Workshop in Morocco, in december 2017, and in may 2018 at The Logelloù in Penvenan (France)
Concert  "midi trente" at la Carène in Brest, in may 2018
Workshop in Meknes, (Morocco) in Novembre with the French Institute.
Spring residency in la Grande Boutique before the 2019 tour.
See and Listen